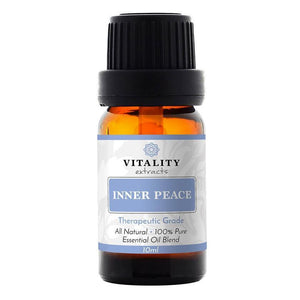 Inner Peace Essential Oil
100% Pure Therapeutic Grade
Inner Peace Essential Oil Blend is a lovely combination of oils providing a spiritual calm in the presence of stress. The robust aroma of clove is complemented by citrus notes and rounded out with lavandin producing a state of peace and positivity.
Ingredients: Clove Leaf, Pink Grapefruit, Mandarin, Lavandin, Bergamot, Lemon
Inner Peace Essential Oil Blend May Help:
- Pain relief
- Fight free radicals
- Boost immune system
- Increase mental agility
- Reduce stress & anxiety
How To Use:
Topical: Dilute one drop of oil with several drops of carrier oil (increase or decrease based off preference/sensitivity) then apply to desired area as needed.
Aromatic:
Use three to four drops in the diffuser or vaporizer of your choice.Add it to a hot bath to feel relaxed and moisturized.Add 1-2 drops to your stress ball or a cotton ball and keep it close at hand in the office. Drop one or two drops of oil on a cotton ball and place it on your night pillow toimprove sleep.  
---
We Also Recommend
---