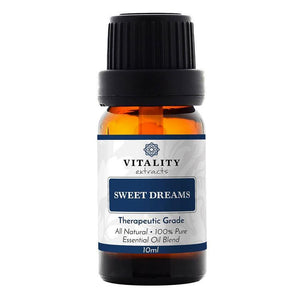 Sweet Dreams Essential Oil
100% Pure Therapeutic Grade
Sweet Dreams Essential Oil Blend is a mellifluous blend combining a broad spectrum of oils conducive to a good night's sleep. 
Ingredients: Orange, Juniper Berry, Lavender, German Chamomile, Coriander Seed
Sweet Dreams Essential Oil benefits:
- Fall asleep faster
- Stay asleep longer
- Promotes calm relaxation
- Provides deep natural sleep
How To Use:
Topical: Dilute one drop of oil with several drops of carrier oil (increase or decrease based off preference/sensitivity) then apply to desired area as needed.
Aromatic: Use three to four drops in the diffuser of your choice.
---
We Also Recommend
---