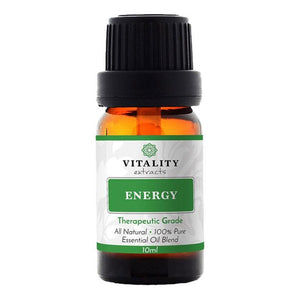 Energy Blend Essential Oil
100% Pure Therapeutic Grade
Energy Essential Oil Blend can help uplift your mood, stimulate your mind, and help increase energy. Try diffusing it in your office or car when you need a boost.
Ingredients: Rosemary, Juniper Berry, Juniper Needle, Silver Fir Needle, Lemongrass, Clove, Nutmeg, Black Pepper
Energy Essential Oil Blend May Help:
- Reduce inflammation
- Increase blood flow
- Clear the mind
- Rejuvenate mind & body
- Balance stress & anxiety
How To Use:
Topical: Dilute one drop of oil with several drops of carrier oil (increase or decrease based off preference/sensitivity) then apply to desired area as needed.
Aromatic: Use three to four drops in the diffuser of your choice.
---
We Also Recommend
---