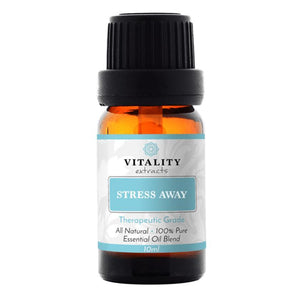 Stess Away Essential Oil
100% Pure Therapeutic Grade
Stress Relief Essential Oil Blend is a natural solution created to combat normal stresses that creep into everyday life.
Ingredients: Bergamot, Sweet Orange, Ylang ylang, Pink grapefruit, Patchouli
Stress Away Essential Oil Blend May Help:
- Induce relaxation
- Reduce nervous tension
- Uplift, relax, calm, regenerate
- Reduce inflammation
- Balance stress & anxiety
- Increase mental agility & memory
How To Use:
Topical: Dilute one drop of oil with several drops of carrier oil (increase or decrease based off preference/sensitivity) then apply to desired area as needed.
Aromatic: Use three to four drops in the diffuser of your choice.
---
We Also Recommend
---